I'm adding a third enemy to my game, and would love some feedback on its animation. It's a standard strength enemy, with a spider being weak, and a stag being tough.
Wild Boar:
Think he looks bulky and... piggy enough?
UPDATE
- second pass: Now with snout, tail, and speed!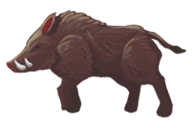 UPDATE
- third pass: Attached the tail properly to the back, improved ear movement. Slightly altered the "bounce" in his run.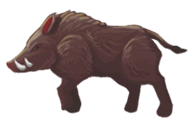 C+C very welcome, and please don't hold back if you think he could do with some improvement!
Many thanks,
-Silver-
-Silver-
2012-10-26 10:18:37