I wanted to set up a certain timer for a specific 'SmallFern' that was already eaten, or in other terms, it's Capacity = 0. Capacity 0 meant you could not eat it anymore and it went invisible by switching to a frame in the 'animation' that had no sprite. Upon Capacity turning 0 I wanted it to start a 'Regrowth' timer set to once, which, once the time was reached that specific instance of 'SmallFern' were to change it's frame in the animation to fully-grown and it's Capacity to 3. Each time you eat the plant while it is atleast 1 or greater then 1 capacity it would fill some hunger and subtract one capacity, therefore changing the frame of the animation to a more eaten look.
The problem is that the timer never starts, when using Debug testing the timer does start, but stays at the number 0 and never goes up, therefore the plant never regrows.
Here is a screenshot of the events.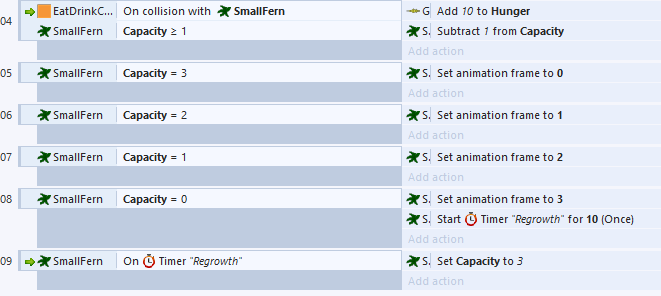 Thank you for your help.