Step
Update: 0213/04/05
(icon is made by Gonz Devour, thanks)
Step behavior is extracted from custom movement behavior. It can interpolate points linearly between two points.
Here is an
example
.
To use step behavior,
1. Add step behavior below any movement behavior like 8direction, platform.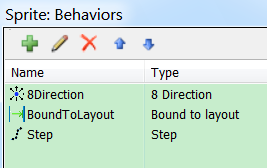 2. Create some trace points in event sheet like

Another things,
- property "Noise shift": shift the interpolation points by a random distance(pixel), 0 is no noise shift.
- action "Force stepping": user can move sprite by "Set X","Set Y" then call "Force stepping" to create the moving trace in a tick.
rexrainbow
2013-04-05 03:00:17