"It is the year 2198 and humanity has by now established permanent settlements on the Moon and on Mars. Ever looking to expand, it is no surprise that we now look towards the next frontier - the Asteroid Belt. And so here we are, the first humans ready to venture beyond the orbit of Mars. They call us Belters, but we call ourselves space entrepreneurs. Our greatest challenge yet is about to begin, as we embark on a mission to build a fully self-sufficient asteroid base deep in the heart of the Asteroid Belt."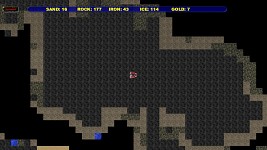 Belter 2198 is a Terraria inspired sandbox sci-fi game with elements of simulation (a la Simcity) and strategy (a la tower defense games) set in the year 2198.
Explore, Excavate, Expand!
Check out our page on IndieDB:
http://www.indiedb.com/games/belter-2198