Link to .capx file (required!):
Not relevant, only affects editor
Steps to reproduce:
1. Use C2 a lot (I presume)
2. Add any event + action
3. Open an action
Observed result: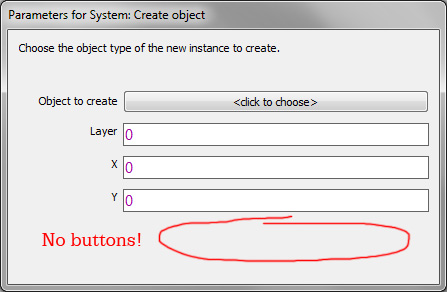 There are no buttons. ENTER and ESC still work, but nothing clickable.
Expected result:
Buttons present!
Note: Resetting dialogues in the menu will correct it, but it's strange this could happen at all.
Browsers affected:
Chrome: n/a
Firefox: n/a
Internet Explorer: n/a
Operating system & service pack:
Windows 7 64 Professional SP1
Construct 2 version:
130
C-7
2013-05-16 23:14:34