Close Remixes of the Third Kind is an uncommon "typing rhythm game" made in 24h during the MTV #
MegaGameJam
This is a game about
remixing stuff
with your
MIDI keyboard
(yeah, we wrote a custom Construct 2 plugin for that)
PLAY THE GAME PROTOTYPE
(work only with Chrome and MIcrosoft Edge at this moment)
You are wandering disco-astronaut in the space, when finally you make a contact with an alien race you discover that
the only way to comunicate is... through music
.
The inhabitants of the vynyl planet want to communicate, but on their terms
NEVER

repeat what the other just said. Echo back is rude and resonance is dangerous for the alien race
Use

ONLY

the same notes of your interlocutor and arrange them differently. It's profound discourtesy to introduce new notes in a dialogue

REMIX

is the only way to increase the comprehension (the upper interface bar), better remix means better comprehension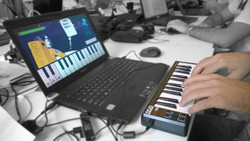 The game is playable through external MIDI keyboard (if the browser supports it), touch keyboard and (the boring) computer keyboard ( working keys: A - B - C - D - E - F - G).
Actually we knows about the difficulty to calculate the score... for players is a sort of "magic-black-box-calc" but... we are working on it
(time permitting...)
What do you think about the game? And what do you think about finalizing the MIDI plugin?