Finished
ENERGENES
a cell simulation.
Each cell has its own genetic (you can change - tap on cell)
With this settings cells generates proteins (Adenosintriphosphat[ATP], Inflammasome).
ATP collects energy and return to the mother cell to feed it.
Inflammasome attacks/defends other cell groups.
One a cell reaches its
split energy
it split into two with the same genes.
play here:
http://www.gameus.de/energenes/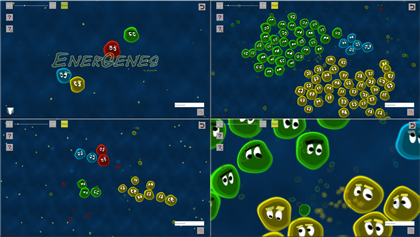 Youtube:
https://youtu.be/rxX6R3OFU4U