I'm trying to do this code for switching players and I have my code set up like this.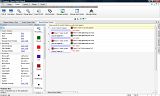 I'm looking through the debug and it isn't showing that I'm even pressing a button(which I base on because the value isn't adding) Perhaps I'm not doing the code for button presses right.
I've checked through the platforming school .cap and I can't understand what I'm doing wrong.
I've edited the image so it says "pressed" instead of down.
This isn't the problem I'm having the problem is the code for pressing the button just isn't working. I even tried saying On"Switch" pressed > Player1: Jump and that didn't do anything either. I also tried doing it with keyboard controls and it didn't work.