I read about the New Grounds competition and decided to give it a shot. I started working on the concept hoping that adding touch controls will be as easy as keyboard ones but after trying alot Im just unable to do it. Iv read touch based tutorial and manual and Im unable to find my answers. Can you help me out?
I really want to do this game as it is based on one of the major current issues of sexual abuse/assault which goes well with the theme "touch"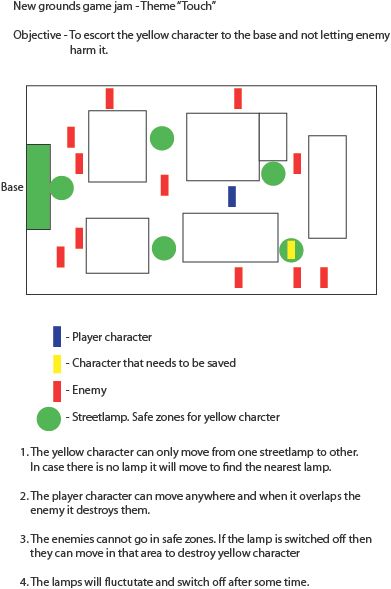 My main problems here are
1. I need to visually move my yellow character from one green spot to another.
2. If the spot has disappeared it needs to move to the closest spot.
3. I need to make sure that the enemies cannot come in this green spot.
4. If the player character overlaps enemy character it is destroyed.
Now I think I'l be able to do the last one but I really have no idea how to do first 3. When I tried to move the yellow character On Touch using Set Position it just pops on the lamp. Also I had to create new lamp because the character would adjust in same lamp if other lamp was a duplicate of the first one.
I hope you can guide me on this. An example of this concept is Police Rush by Konami https://itunes.apple.com/us/app/field-prowlers-police-rush-us/id338139876?mt=8
killermachine
2013-03-20 08:15:26