I'm attempting to create my own hexagon based grid for testing. I've been able to assemble hexagons the way I want and now I'm trying to have separate sections for each hexagon. Here's a pic of what I'm trying to accomplish.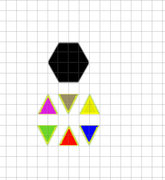 How do I setup the hexagon so that each of the 6 equal triangles appear to fit inside the hexagon together equally? You can easily place the 6 triangles on the hexagon and they fit. I'm just not sure what events would place them all together so that every hexagon on the layout has the 6 triangles. Each triangle is a separate sprite.
Also, is it possible to randomly have each hexagon get a random arrangement of the 6 triangles? Any help would be appreciated.