Yo!
I'm currently working on a little test that loads a dictionary with some names using JSON data. The data works fine if I put the contents of the file in the field. However, when I try using AJAX to read the file from the project directory it doesn't work.

Here's the code that should tell AJAX to read the file and then once finished, put it in the dictionary. I have the file imported within Construct 2. Also when debugging, the data shows up within AJAX as LastData.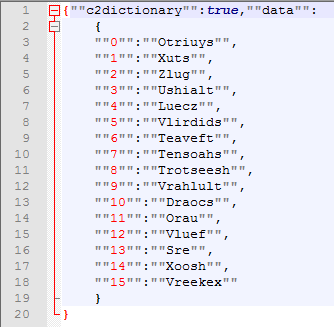 Here's the dictionary JSON file that I'm trying to use. Like I said, it works if I copy this into the "Load from JSON" field.
Am I missing something simple?
Thanks in advance!
Jack