LINK TO PLAY ON SCIRRA ARCADE! (Level 1 FINALIZED DEMO, JANUARY 2, 2017):
https://www.scirra.com/arcade/action-games/little-green-soldier-14119
CONTROLS:
Left & Right arrows
- Moving left & right
Up/Spacebar
- Jump (
hold to jump higher
)
Down
- Crouch (+
Spacebar to drop down platforms
)
X
- Hold to absorb enemy projectiles
C
- Shoot (
only after absorbing
)
P/Enter
- Pause & unpause
M/Backspace
- Mute & unmute
-----------------------------------------
Hey! I'm a 19 year old amateur game developer, but have some degree of experience in drawing and spriting. Since I'm still busy in school, just this level took me 6 months to complete :/ (though it's mainly because of the many checks-and-balances needed for the mechanics involved.)
The gimmick of the game is absorbing enemy projectiles and firing it back at them. I suppose it's a little like Kirby...except you don't gobble up the enemy itself, you grab their fire and throw it back at them. It'll be a bit more difficult :>
This first stage only features heat energy (from the fireballs and bombs) but I'm including more types in future levels (electric, kinetic, light, elastic, gravitational, nuclear etc).
Anyway, screens!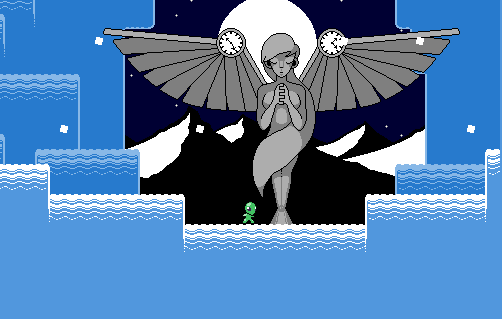 As an aspiring programmer in animation/gamedev, I'll greatly appreciate your feedback on this game. So...if you will?