@TiAm - the change in quality and resolution helped a little bit, not very much, about 2 fps. The phone is pretty sweet, thank you haha.
@Ashley - I should be getting a constant 60 fps on a high end phone when I first start space blaster, or close to 60 fps right? I just cannot grab 60 fps at all on the test at any given time.
As you can see here, it drops a lot of frames in my screenshot.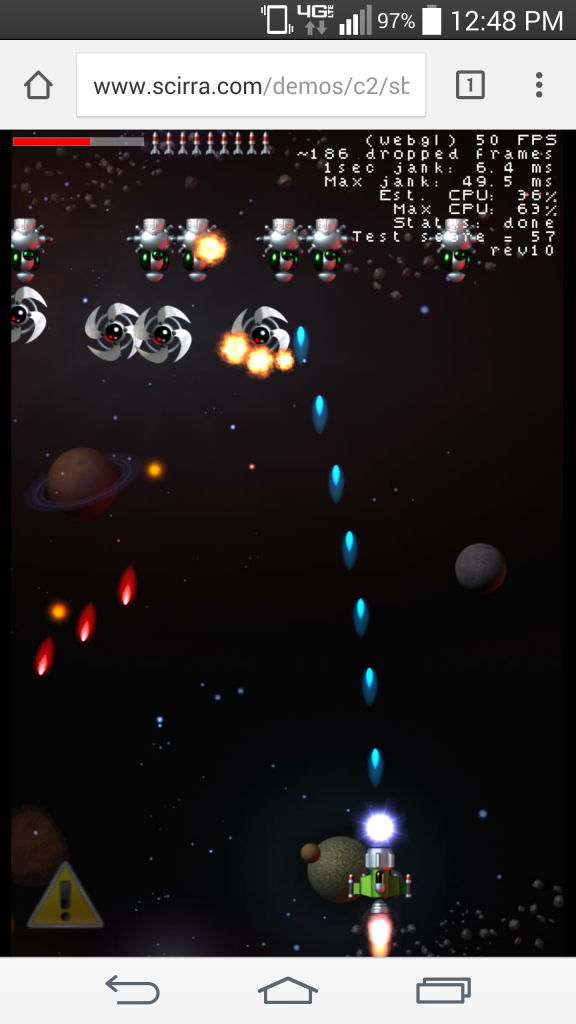 I tried this same test on my Samsung Galaxy Tab Pro 8.4 with a Snapdragon 800 @ 2.3 Ghz, 2GIG RAM and with the Adreno 330 GPU as well and a resolution with 1600x 2560.... and I can constantly hit 60 fps no problem on the tests, with MINIMAL frame drops.
Is there some problem with fill rate maybe with higher resoltuon devices? I would hope not, because higher resolution devices are the future. The LG G3, along with the Samsung Note 4 and the Droid Turbo are all sporting Quad HD displays (about 2k display) already, and the trend will continue.