Fuzzy
(Update: 2013/05/18)
This plugin need to understand what is fuzzy, sorry I could not explain too much.
"
Fuzzy logic
is a form of many-valued logic or probabilistic logic; it deals with reasoning that is approximate rather than fixed and exact."
Anyway, it is used in some AI cases.
Exampe
, using fuzzy logic to simulate the behavior of fish.
- touch screen to put feed
Capx
Basic example
of this sim-fish.
- Edit the value of each input parameter, then press "execute" to see the value of outputs.
Capx
The steps of using this fuzzy plugin are -
1. Define memberships. This plugin provide 3 kinds of levels (3,5,7).
2. Define fuzzy logic (rule). Put memberships for parameters of this action. For example,
- "-hp" = N(negative) membership of variable of "hp"
- "hp" = ZO(zero) membership of variable of "hp"
- "+hp" = P(Positive) membership of variable of "hp"
And expression:AND/OR/NOT for and/or/not logic.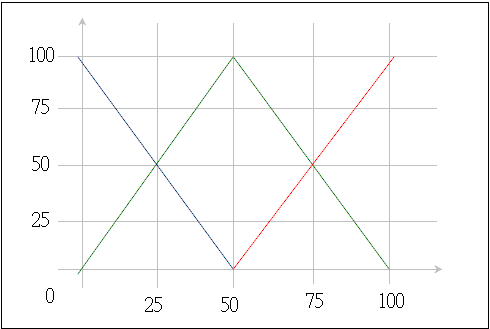 "-hp" : blue
"hp": green
"+hp" : red
3. Set input variables by "action:Set variable value"
4. Run rules by "action:Execute rules"
5. Then the grade of each rule could be picked by "expression:OutputGrade" , user could pick the rule with maximum degree by "expression:MaxOutput".
(In sim-fish example, I use "expression:MaxOutput" to be the command of the fish)
----
Dependency of sim-fish capx
[Plugin]
timeline
[Behavior]
timer
fps monitor
rexrainbow
2014-02-15 16:31:06