Umm. Its strange.. when my bullet hit the wall something it work.. something not.. depending on where the player shoot the bullet. Here what happen...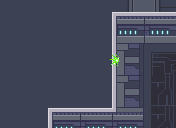 The bullet impact animation aren't aligned to the wall. Most the time it is.
My event is basically... once bullet collide create the bullet impact at x and y position of the destroyed bullet. So i expect the collisions to be pixel perfect.. which it doesn't seem to be.
Any ideas how to fix this ?