Oversized graphics, you can only see top-left side of app and no sound/music
That's how my app looks on iPhone 4S (iOS 9+):
Parameters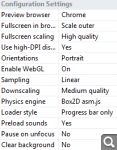 ***About 1.5 week ago everything worked good, i've uploaded my app to itunes connect for review and apple accepted it and allowed me to publish my app in store, but i found small bug with score displaying and wanted to fix it so i haven't publish my app. After fixing this bug i've uploaded my app to cocoonio, compiled with ad hoc key and got this scale and sound problem. After 3 days of searching for solution i haven't advanced. I uploaded empty construct2 project with only 2 sprites without any plugins but with the same bundle id and ad hoc key and got the same result.
Construct 2 Version ID
____ same problem on 230, 239 and 240(beta) ____