Hey. I have a question. I'm not sure if I've asked this before... but I am LOSING MY MIND here.
Basically, I'm trying to do something as basic as make a character attack.
I've tried tutorials all over the place, but most tutorials feature a block character and a separate object.
But my character is just one object, and I'm trying to get it to enter an attack animation.
Now, this is what I'm doing: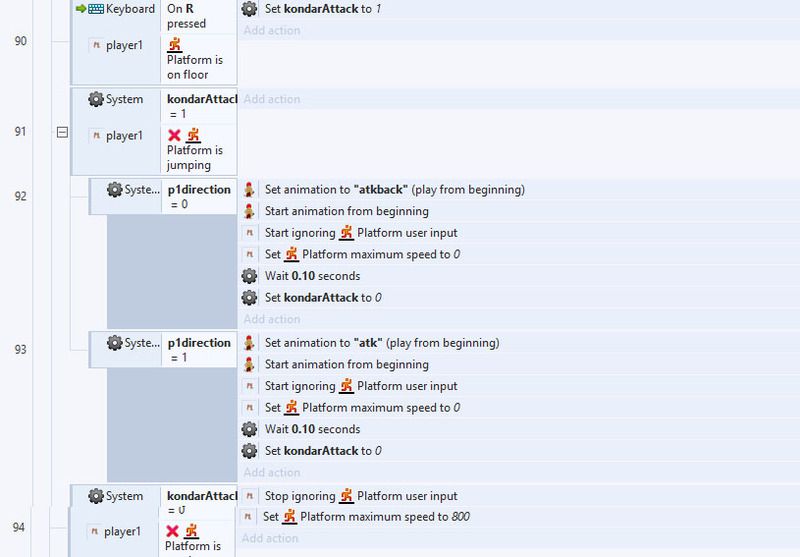 Basically, I'm doing so that when I press "R", I get my character to attack.
I haven't reached the point where it attacks because I'm already struggling in getting ANY animation I call upon, (that apparently requires a variable? such as direction where the character is facing, or the variable that detects if it's attacking... this is just a wild guess), to run more than just THE FIRST FRAME.
Instances that do not require a variable such as running (although again... direction variable is used, and I have no problem here) jumping, and falling, is perfectly fine.
But animating attacks is a near impossible feat. And again, I've searched tutorials, but they all use pretty basic 1-frame sprites and animations, so it serves no purpose to me.
And I'm not even mentioning the one where a character of mine ran and shoot in Megaman fashion, where I had to replace the "run and shoot" animation over the "run" animation, and it would only load the first frame..
Please... what am I doing wrong? Why is it SO hard to load animations?
tl;dr: When I press attack, character just loads a "sword at ready" frame, and goes back to his neutral animation, and doesn't execute the whole attack animation.