I've been working on this on and off for quite some time now and have bugged quite a few people along the way for help with bits / pieces. It took a lot of trial and error but finally got to a place happy to share progress to date
Thanks @MadSpy, @rexrainbow, @R0J0hound, @Ratmaster, @SoldjahBoy for your time / patience with my questions.
https://www.youtube.com/watch?v=JkiBavLaGaM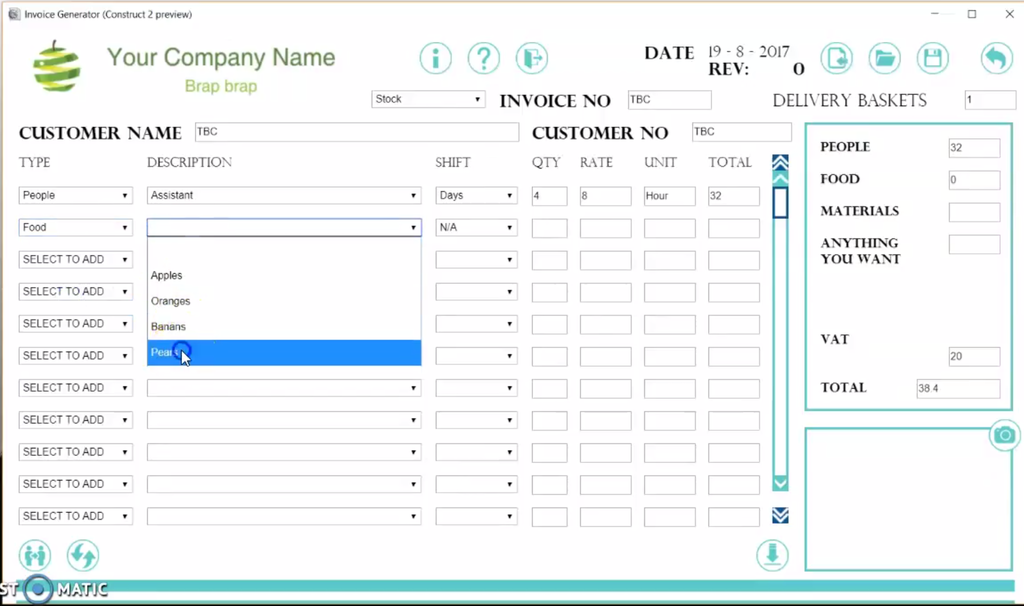 It's current and working features:
- Build quotes or invoices using drop box lists
- Items, units and rates are generated from text files. Update the text files to change items / rates etc...
- Add custom items and rates by selecting 'TBC' from drop down lists. Item them added to the list
- Add pictures to quotes
- Save and load quotes to computers / share between computers
- Build in user manual (pdf)
- Live summary breakdown on the right hand side
- Function to duplicate a line down to save time with entry
- Export quote / invoice as a full Excel file (xlsx)
Pluggins used:
NWJS - Save and load quotes to local directory, download photo / excel files
Paster - Load photo and for downloading
Date - Generate today's date in the invoice / quote
The rest is then made from text boxes and a macro excel file to do the final build of the excel file. It allows saving to any location with any file name.